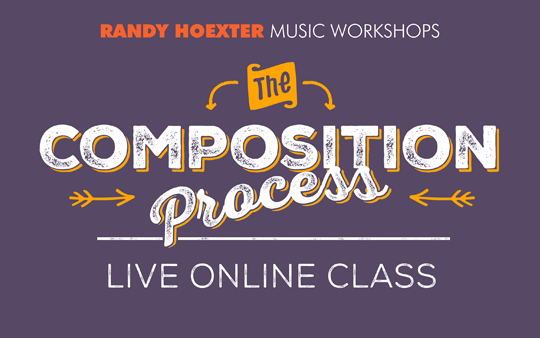 Do you find yourself getting "stuck" when you are composing? Not producing the work you would like? These are the issues we will discuss in this live online class.
We will look at the natural flow of a creative process, along with the ways this healthy routine can get stalled. No matter the style of type of music you choose to create, this set of tools and habits can be used to get things moving forward.
Topics include:
Understanding the natural routine of creative work
Knowing when to introduce new ideas and when to develop existing ones
Using models and influences appropriately
Common misconceptions about creativity
Why our work gets stalled
Typical pitfalls and trouble spots in workflow
Systems and routines to stay productive
Q&A session
The class will be held Monday, August 14th at 9pm EST. (6pm Pacific) for one hour. The introductory price of this class is $19. (future classes will be priced at $49.

The Composition Process - Online Class
A live online class on the composition process, focusing on strategies and routines to increase productivity and quality, while avoiding creative block and other issues.
Price: $49.00
Instructions:
Upon purchase, you will receive an email with a link to register for the class. The link to register will generate another email with your link to enter the class.
On a web browser, the link will prompt you to download the Zoom software, allowing live video and chat. This software will not harm your computer.
If you wish to take the class on an IOS or Android device, you will need to download the free Zoom Cloud Meetings app.
Once the meeting time arrives, you can log in using the link, and we will proceed.
To ask questions, open the "chat" window and type your questions. (If your computer has opened Zoom as full-screen, the chat window will float above the video; click "exit full-screen" in the upper right corner and the chat window will be a separate pane.
Feel free to join the FaceBook study group at https://www.facebook.com/groups/randyhoextermusicworkshops
Class rules:
Please do not record or redistribute the class or the materials from the class.
Only the person who registered can participate.
Questions may be submitted throughout, but please save more elaborate questions for the Q&A at the end.
Self-promotion will not be allowed in the class.